Back Pain Natural Healing
There are back pain natural healing approaches that are safe and very effective.When you cannot sit, stand or walk comfortably because of back pain it affects your whole life.
I have been a chronic back pain sufferer. At one point I thought I would have to sell my horse because I thought I would never be able to ride again. Not only that, I couldn't sit. That meant I couldn't drive. I live in a very rural area so I was basically house bound. If I walked too far I would suffer from back spasms. The official diagnosis was a herniated disc.
I knew there must be a cure for back pain and I just didn't know it yet.
I believe in keeping things simple. Start by going to a local health food store or follow the links on this page to find safe and effective homeopathic remedies for back pain natural healing remedies and get some arnica gel or lotion . If you have not tried homeopathy to treat inflammation you are in for a treat. Arnica Montana is a very anti-inflammatory remedy. I have used it for a broken nose, muscle aches from over use, and trauma. I have watched a limping dog immediately stop limping after receiving Arnica.
Depending on your type of back pain this give your back pain relief a little or a lot. It will at least help. Healing AC will help bruising and inflammation.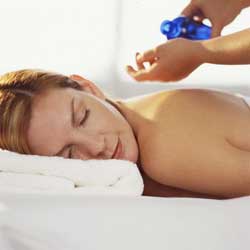 A liquid homeopathic aimed at general inflammation can be very healing and effective. This one is a combination remedy that may help sharp pains, arthritic pains, or just general inflammation. You can take it orally or directly apply to the painful area.
Remember, homeopathy is safe and effective with no side effects. I used the Healing AC for my baby grandson as he was learning to become mobile and taking tumbles. The immediate relief experienced with most remedies is truly amazing. It is mixed with Calendula which prevents bruising. When I broke my nose I did not get black eyes. No one could even tell I had broken my nose. It remained a little tender but other then wearing my reading glasses way down on my nose, I suffered very little after the initial shock of the accident that broke it.
Ledum is a remedy for stabbing pains.Mag Phos is a remedy for muscle spasms.
Rhus tox is in arthritis remedy. This is the remedy to look for if you tend to loosen up as you move around. In other words if you are "rusty" in the morning.
Silicea will help if the pain is coming more from the hips. This is a longer acting remedy. Just use it once a day. You should notice a difference in 2 or 3 days.
Keep checking this page as I have found a new way to use an old homeopathic remedy that seems to adjust the spine and lengthen it. So far 19 out of 20 people that have used this remedy and tecnique have experienced relief from their back problems.
Explore the world of Homeopathic Medicine
with a true professional as your guide.

I'll help you find the fast and
natural path to a healthier you.

Plus, I'll give you my new audio about
"How to Cure the Common Cold in 30 seconds".
Treating Back Pain
Chiropractic treatments can also be very beneficial. I went to one for years and he kept me going a long time.
Massage therapy, especially one that is skilled with aromatherapy to release the muscles can also be very effective. I am not a big fan of what massage therapists call Trigger Point Therapy. This is a painful procedure. I am a firm believer that you do not have to create pain to cure pain. A massage therapist that is also a skilled aromatherapist can put oil on tense muscles, leave it alone for a little while and then come back to that area and find the muscles have released.
Nutrition and exercising are also very important for back pain natural healing. This author is a doctor and a chronic back pain sufferer that became frustrated with conventional medical practices and pain medicine.
I also believe emotional blocks to back pain natural healing are very important to address to heal back pain naturally. I "carried a lot of guilt" in my back. Praying about that and asking God's help and forgiveness led me to forgive my self and realize God's plan in all that had happened in my life. It wasn't my guilt to carry but his plan. If you are suffering from back pain, I pray your pain turns into a Blessing as mine did.


---
©2008 Learn Natural Healing and Medicine - All Rights Reserved

Disclaimer

*/This information in an "Back Pain Natural Healing" is provided for educational purposes only. There is no intention to diagnose or treat health conditions. All the information contained in this web site is related to natural approaches to health and is outside the typical Standard of Care provided by your physician. If you are under a physician's care it is important you keep him informed about what you are doing. There are physicians that recognize the value of natural approaches to healing. /*
Return to Home Page from "Back Pain Natural Healing"