Natural Healing Asthma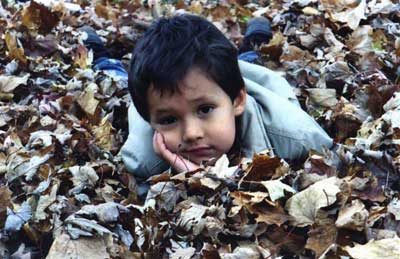 Let me introduce you to David. His story is about natural healing asthma. He was 4 years old when I saw him for the first time one summer. He had severe allergies. He was getting allergy shots and was on Asthma medication.
His mom sent me this picture she took the next fall (4 months after he first saw me). David was jumping around and playing in the leaves. Because of his severe allergies to mold, he never could have enjoyed that adventure before his Mom learned natural healing techniques. It would have caused a severe asthma attack. He was one of the first children I saw that used all the techniques to natural healing asthma I have learned.
He is now off all medication and is a healthy little boy. His natural healing plan supported his body in decreasing allergies, yeast, mold, some virus', and supporting his immune system and adrenal glands as well as giving suggestions on how to build resistance when exposed to ill people. His Mom has not contacted me concerning any health conditions for him since the April after that. Part of that is because he is so much healthier, the other part is that she learned natural healing techniques.
After David's Mom saw such quick results with him, she asked if I could help her endometriosis. I said no guarantees but I would try. She was in severe pain. She is now out of pain, feeling great, and has had a third child.
David's little sister had a dry itchy spot on her leg that wouldn't go away. That was resolved in one program. That is not typical for skin problems but she was young enough she healed very quickly.
We quickly worked through several acute conditions over the course of the next year with various colds and infections that are safe to use to naturally heal children.
What do I mean by saying a problem was resolved in "one program"?
When someone comes to see me I spend a couple of hours evaluating them and teaching them natural healing strategies for their specific condition. I use homeopathy,herbs, BANT Method, and most importantly food. I try to figure out if there is anything keeping them from healing. Then I put a healing program together, that supports their body to heal itself. The program typically takes a month to complete.
To heal any of these problems, the issue of yeast, which includes candida albicans, needs to be addressed. Yeast causes inflammation. Women often know they have yeast because they will get a white creamy vaginal discharge. It typically itches.
Many do not know that yeast can cause inflammation in just about any tissue. That has come to be known as "systemic yeast". This yeast is typically part of the cause of asthma. Other issues may be a problem as well, but part of natural healing asthma, is typically dealing with yeast or fungal issues.
Learn Natural Healing Asthma and other Health Conditions
with a true professional as your guide.

I'll help you find the fast and
natural path to a healthier you.

Plus, I'll give you my new audio about
"How to Cure the Common Cold in 30 seconds".
Yeast is the Problem for Many Health Conditions
Systemic yeast can be a very "sticky situation" and difficult to completely get rid of. You need a step by step approach to first remove and "Blocks to Healing", and make sure all the process of elimination work wels. Then you can use some herbs such as dandelion to support the kidney and liver function and black walnut to kill yeast and parasites.
Homeopathy is very successful with dealing with allergies
While learning natural healing asthma techniques you may still have asthma attacks. To learn how to deal with this you may wish to listen to the Simple Cures audio that is available here


---
©2008 Learn Natural Healing and Medicine - All Rights Reserved

Disclaimer

*/This information in an "Natural Healing Asthma" is provided for educational purposes only. There is no intention to diagnose or treat health conditions. All the information contained in this web site is related to natural approaches to health and is outside the typical Standard of Care provided by your physician. If you are under a physician's care it is important you keep him informed about what you are doing. There are physicians that recognize the value of natural approaches to healing./*
https://www.learnnaturalhealingandmedicine.com/